Character Template
Persona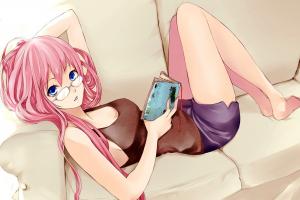 Character Theme:
(Optional)
Battle Theme:
(Optional)
Quote:
(Optional
Name: Konachan YukiAlias: Kona, slayer, water devilGender: FemaleAge: 18Birthdate: 25 DecemberSexuality: StraightSpecial Characteristics: Konachan Yuki can breathe in water. She cannot be drown in sea or any substances.Personality:

Charms and Patience

Yuki seductive smiles and twinkling eyes usually lure people what she want them to believe; innocent and harmless. Her charms work very well, afterall, she is a chic, yet grateful and genteel. She is quite active in social and a high-spirited girl who is unchallengeable ruler in society. Yuki is usually nice to people and is quite patient in conversation. She works on her patience on knowing more about strangers. She never let her feelings show on her face; she never let her guard down.

Anger and Stubbornness

However, if she goes berserk due to being annoyed or irritated, she can be quite a nightmare. People wasting her time are what she hates most and she tries to avoid these people as much as she could. Annoying people ticks her totally off and she doesn't need any more deeper reason. She elucidates everyone that she won't harm unless the opponent challenges her or started a fight. Nevertheless, if these people start to annoy her a lot, Yuki never promises she won't hurt them. As she is a god slayer, she never let other people win over her. She loves to be top of everything she does, it's all she cares. She is stubborn and she does everything on her own way, she doesn't believe other people. Nobody is to be trusted, that's what she believes in. Yes, she is resistant, difficult, and persistent in an opinion, task or idea.

Canny and quick-witted

Due to Yuki's experiences in her past, she is very mature despite her age. She is clever; both physically and mentally. Yuki's appearance shows she is kind of fragile and weak, that's one of Yuki's sly advantages. However, Yuki is a strong fighter but she loves to take every advantage she can get. She can also read emotions that passes through people's face. She is afterall, quick-witted. She knew how to interpret the emotions and twisted meaning.

Manners

Yuki is polite to elders and kind to youngsters. She is usually a smiley girl but she is totally serious. Smiling doesn't mean she isn't serious. Smiling is just one of her distraction to others. She is not very friendly to strangers but she is nice enough to do pleasantry conversation. However, she never let anyone overrule her or let them command her. Yuki never follows other people command unless it's her guild master's command. She believes she is best in what she does and she doesn't allow anyone to lead. She prefers leading than following. She believes that other people will slow her down and she doesn't trust anyone. She believes in herself and not others. She is proud in what she does, whether people calls her selfish or not, she doesn't care what other people say.
Likes:
Winter: As her birthday was in December and the main thing is she loves snow. She loves the way how snow caresses her face and the cool winter breeze warms her heart.
Traveling: Yuki loves to travel and she usually travels a lot. She studies cultures, boosts up her knowledge and skills through her travels.
Sea: As she was Water God Slayer, so she loves being near to sea which calms and gives her confidence. She loves the sensation of being in the sea or having contact with water, not just sea.
Magic : She loves her magic and she would do anything not to give up on it. Her magic is what make her a god slayer and her magic is her pride.

Dislikes:
Dirt: Dirt is dirty as simple as that, Yuki does not like herself to be covered in dirt or mud, she thinks dirt contains bacteria which is unhealthy.
Noises: Noises such as drilling, screeching voice and screaming sounds are too loud for Yuki. She doesn't mind loud music but Yuki is just too sensitive with noises and sounds that are unpleasant.
Insects or Slimy creatures: She fears slimy creatures and dirty creatures which might even carry diseases. They are disgusting; Yuki didn't think anybody will like those slimy things.
Annoying people: Annoying people gets on her nerves and she totally hates annoying people. By annoying people, she meant to people who kept nagging her, repeating non-sense words wasting her time, gossiper. What Yuki hates most is wasting time so anyone wasting her time annoys and irritates her and she hates those kind of people.
Motivations:
Determination and Promises: She wanted to be the coolest and strongest mage in Fiore. This is her pride she kept and surely she wanted to win not defeated. Thus she wanted to be strongest in Fiore and coolest. Also, her promise with her goddess have to do with this: she promised her she will never let the goddess down and this meant she got to be better good at what she do.
Avenging for the beloved people: She wanted to avenge for Suki's family and she wanted to get on with her new life and forget everything about her past. Yes, she promised Suki's family too, so yes, these are totally what motivates her. She never broke her promises, so even this meant her life, she would try to succeed it.
Fears:
Being defeated: Yuki hates to be defeated, she loves to win everything. It's not a selfishness or anything, it's just her dignity and pride she cares. This is all she have after all the experiences she had. She would never bow and this is her instinct.
Being alone: Yuki spent her eight years alone despite the goddess so she didn't want to be alone again.
JellyFish: Yuki used to train her magic underwater so Yuki used to stay in sea and she usually encounter with Jellyfish so she felt disgusted to these jellyfish.
General Appearance
Height: 5'7Weight:
118 lbHair:
PinkEyes: Sea BlueSkin Tone: FairAppearance:
Konachan Yuki is a beautiful and attractive girl with a nice and slender figure and the height of 5'7", which you can say tall for a girl. Yuki's calm sea blue eyes show nothing but purity and innocence. But if you gaze into it, you will find it quite irresistible and her long lashes are very attractive. Her hot pink hair flows naturally around her face and arms; they are shiny and smooth, just like silk. Yuki has a fair skin tone and people usually tell her, she looks like a porcelain doll because she does not has any wounds or scars. Yuki's face is very spotless and beautiful without needing any special treatment. Yuki also have dimples which make her attractive when she smiles. Yuki usually dresses herself with evening gown or dress which are very fashionable. Yuki loves accessories such as hair bands and rings which are designed by roses or shells, as long as it is beautiful and cool. Yuki usually paints her finger nails that matched her clothes and changes the colors from time to time. Yuki appearance is above average, and most people admired and envied Yuki a lot.
Guild
Guild:
TartarosTattoo: Left Arm, color of her eyesRank: D
Extra
Friends:
-
Enemies
-
History:
Spoiler:

The Royal King and Queen had one and only heir to throne, Prince Iruka. Prince Iruka was married to Princess Sakura while they were just at the age of 18 and gave birth to one son and daughter ; Tsuki and Hina and next three years, they gave birth to another daughter; Princess Konachan Yuki. The little princess Yuki was the one who got the attention of the whole royal family. The little princess Yuki was so adorable and was brought up spoiled. The spotlight was totally on Konachan Yuki. What no one notice was that the elder Prince Tsuki and Princess Hina were secretly envied of the little Princess Konachan Yuki.

Prince Tsuki and Princess Hina were more and more upset as Yuki grew up. It seemed Yuki wasn't just beautiful in appearance but also smart. Yuki could ride horses at the age of 8 and was fighting swords with Prince Tsuki at the age of 10. Yuki was just too bright and this made the elders more jealous of it. The King and Queen were now aging and decided to give their throne to their desired heir Prince Iruka. Thus, the new heir was to be chosen for the future and of course, King Iruka chose Princess Konachan Yuki. This totally nudged the Prince Tsuki and Princess Hina to edge of anger. Both the elders were now in fury of anger. Naturally, it should be Prince Tsuki. So, both elders decided to get rid of Princess Konachan Yuki. No matter, how bright Yuki is, she just couldn't read people's mind so when two elders invited Yuki to tour around the River Blanche, she gladly accepted. When Yuki arrived to River Blanche, there was no one apart from two elders so they went to the estuary. Yuki was curious what they were doing here, after a minutes, all she knew was, she was thrown to the Pantheon Sea, which was very deep and was famous for its horror and fairy tales of gods and goddesses. Yuki was scared, she tried to swim without success, the sea was too deep and the waves were too rough. Yuki was too young, and no matter, how tough she was, there was no escape. Yuki tried the attempts to save herself but all failed.

Yuki tried to gasp with failure; she was drowned in the sea. After a few attempts, she decided to accept the fate that laid for her. She was disappointed with her siblings and to be frank, she was fed up with her life, all her life had been pretences to be true. Just swept me away and cleaned me to purity, my dear sea. Slowly, she felt herself blacking out. Her head throbbing, Yuki slowly opened her eyes, she was on a small island, where everywhere was golden sand. She stared across the calm sea, feeling chilling sensation. She had always love sea, now her siblings tried to kill her. Psshh.. What a life Yuki felt no more feeling in her heart just scars.

Just then, a bright light shone, and was a breath-taking female who introduced herself as the goddess of sea. Yuki was in awe of surprise. Before Yuki could demand any answer, the goddess stated, "Konachan Yuki, you are dear to sea, you are a high-spirited girl with ability. It will be such a waste to let y go. So I offered you two choices, (1) I can help you back to your palace or (2) You can start a new future by being Water God Slayer, there will be mages and slayers in Fiore, you can start your new life there. I would be honor to teach you God Slayer magic. "

Surely, Yuki chose the second one, she stayed with Suki's family whom house was situated right next to the sea. The family was nice and they let Yuki took shelter and adopted Yuki as their daughter. She went to sea at night and studied the magic together with the goddess at night then at the day time, like all normal teenage girls, she did her school job thing, hang out and work to earn money. Two years, she studied and trained together with the goddess and the goddess left as soon as two years was up, the goddess told she could not teach any more longer and Yuki was to study and train herself, the goddess asked a promise from Yuki and Yuki promised not to let the goddess down and she would try her best. She meant what she said. The goddess told her all about Fiore and guilds and mages, other magic knowledge. Yuki marked all and listened. When the goddess told her about the guild Tartaros, Yuki felt she would fit in quite well. However, Tartaros was dark guild so Yuki decided to keep that as option only.

Years had passed, Yuki continued to train herself and she was now, quite fond of the Suki's family. Suki's family loved Yuki a lot and cared a lot too. Nevertheless, there was a turn of coin in Yuki's life. One day, when Yuki was back from training, she returned to find corpses of Suki' family including Suki. Yuki instantly knew the murderers were mages because she can smelt the magic in the air. This made Yuki felt like murdering and she surely would. She buried the corpses and promised Suki she would avenge for her family. She had made two promises and those promises would only be fulfilled when she was in Fiore. She decided to set out for Fiore. Yuki's hands were balled into a fist. She was angry, and not just angry, her feelings were at rage of fury, she wanted to kill these murderers and she now knew where she belonged, she did belong where she wanted to; Tartaros, the dark guild. She was going to love every moments there and she was totally to have fun killing back those murderers but other than that, she was actually looking forward. Now, she was about to resurfaced again to the world. She had been hiding herself with Suki's family not using her real name. Now, she was back to using her name, Konachan Yuki, water god slayer.
Face Claim: Megurine Luka from Vocaloid
Last edited by Konachan Yuki on Tue Jan 01, 2013 3:15 am; edited 11 times in total
Welcome to the application process. I'd like to get started right away, but first, I want to extend a thank you for your time and effort.

I would like to remind you that the magic you are going for requires heavy scrutiny and critical reviewing. Thus, I, your critique shall guide you along the way and ensure we both get the application we seek.

Personality: Alright. You have a pretty thick personality here, but what we need is some elaboration. How does Yuki talk to people? What does she find annoying or irritating (great chance to flesh out dislikes and likes using the personality). I want to know what makes her tick. Why is she nice to people? what are her views or motives? Is she always happy? how is she while in situations that are serious? All that good stuff. You can separate the parts to pin point each accurately as well. As that makes it easier to dive into.

motivation & fears: The motivation needs a lot of elaboration. Why does she want to be the coolest mage in fiore? How does she plan to reach that goal? How does she intend to find out about her past by doing this? How exactly does this drive her? [You can thicken the likes and dislikes too if you want. I will enjoy it personally.]

History: This really needs some work to effectively correlate with the character. Too much is simply left out. In her personality you say she up to date with fashion. How? what happened after her accident? Was she taught in the ocean? Got a foster family? How does she buy her clothes? How does she stay in touch and updated? Can we learn a bit about her training? What did she do with godess? Did the godess leave suddenly? Why is she in a dark guild? Why did she join the guild? How did she join the guild?

Actually, you mentioned her "resurfacing" at the end. So In that case we really need to know where she was and how she survived. How she managed to forget her past suddenly and much more. Just take your time and makebsure everything blends.

Thank you for your time.


D-rank





Posts

: 145


Join date

: 2012-12-08



Personality:
When she goes berserk, she's worse than other people. She elucidates everyone that she won't harm unless the opponent challenges her or started a fight. She rarely gets angry but if she's angry, that's because she encounters with annoying people; people wasting her time for non-sense or people who look down on Yui totally ticks her off. However, she usually ignores or avoids these type of people, she want nothing to do with them.
She's worse than other people, you say - is this the average irritation/rage of a person? WHat makes her go berserk? Is it a lot of exposure to the things that make her mad (such as annoying people as you listed above) or is it something deeper? An inner moral standard, perhaps?
Also, you say she is kind but not friendly - she never lets her emotions show, nor does she trust anyone... THen how is she kind? Please list examples - as it stands, I find her being more cold and cruel that nice. Imo, you can be either moderately nice/angry/sad/etc for an all-around "jack of all traits" emotion-wise (someone who is a little of everything but not one emotion stands out) OR you can be pulled to the extremes in one or two emotional areas - here, you leave me confused as to what exactly you are.
History:
Who is Suki? You mention them multiple times, but I haven't the faintest idea who exactly this person is. Is he/she a random person you live with? Is she the goddess? Was Suki murdered with his/her family? What happened to the goddess? Surely a few mages couldn't kill a goddess...
Thank you for your time.
D-rank





Posts

: 68


Join date

: 2012-12-10



~ It is already stated in History that "The goddess left Yuki to let her stand on her own legs, the goddess couldn't help more than she had. The goddess had done her part so she left." and as for Suki, yes, I stated there that, Suki is a family who kept her under shelter.
~ As for personality, I rewrote it. I hope it's correct form this time.
le' BUMP
Sorry for the delay, dearie! <3
D-rank





Posts

: 68


Join date

: 2012-12-10



Approval [2/2]
D-rank





Posts

: 145


Join date

: 2012-12-08




---
Permissions in this forum:
You
cannot
reply to topics in this forum