Character Template
Persona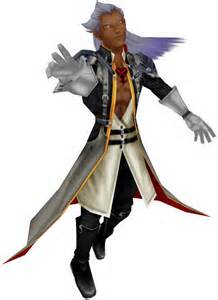 Character Theme:
KH (VS Ansem)
Battle Theme:
KH2 (13th Struggle)
Quote:
You do not win simply by defeating your opponent. You must also understand the reason for defeat and its consequences
Name:
Gilgamesh
Alias:
Seeker of Darkness, Harbinger, Mars Ultor, Marethyu, Ard-Gremmine
Gender:
Male
Age:
27
Birthdate:
???
Sexuality:
Straight as a bullet
Special Characteristics:
Has a raven tattoo on his upper back, and a heart-shaped tattoo on his chest
Personality:
Gilgamesh has a laid-back and cocky attitude and likes to taunt his opponents. When not on missions, he occasionally enjoys eavesdropping on his fellow guild members. He relies heavily on instinct rather than on intelligence for both decision-making and fighting, making him adaptable and unpredictable in battle. Gilgamesh speaks with a stereotypical surfer accent, emphasizing his extremely casual attitude, and habitually uses the phrase "As if." Gilgamesh is one of the more comical members of the guild due to his fondness for wisecracks and sarcasm. He is rarely serious and even makes sarcastic quips during battle. Gilgamesh has given several members of guild nicknames. Gilgamesh generally seems to care very little for his fellow guild members. Gilgamesh does show some degree of empathy on occasion.
Likes:
Ravens, Lions, Lost Magic (Especially God Slayers). This is all because he feels that these animals represent an aspect of himself. He also feels that they are kings and queens in their own right, due to the immense power that they wield.
Dislikes:
Defeated, Outsmarted, and Humiliated all mostly because they impede the process of his gain/rise to [more] power. This also hurts his pride an he is likely to lash out more without caution and that could be dangerous
Motivations:
To gain as much power as possible, so as too completely destroy the part of Fairy Tail that killed his mentors. Also, people wouldn't be as quick to challenge him, although he likes a good fight.
Fears:
Death and above dislikes because he doesn't not want to be stopped on his power-hungry quest. This would be the proposed final stake in the heart, and his death wouldn't be a peaceful. At the very least it woulld cause physical, emotion, and mental problems for all around.
General Appearance
Height:
6'7"
Weight:
200
Hair:
Gray, wavy w/ spikes
Eyes:
Orange
Skin Tone:
Hazel brown
Appearance:
He wears silver-white gloves on his hands, each with a grey band on the wrist, while the rest of the glove, which has three black buttons lining one side, bells outwards. There is a black pauldron on both of his shoulders, each attached to his coat by two straps. He also wears black pants and black, silver-lined, knee-high boots.black leather coat is red on the inside and lined with yellow, and also has a large grey section that covers the lower half and shoulders of the coat. Upon closer inspection, this grey section seems to be attached by several small pins or buttons around the hip and neck sections of the coat, as well as by a belt that wraps around the mans's back and attaches to the rim of the coat. This coat is high-collared and completely unzipped, showing the second, shorter jacket the man wears underneath. Gilgamesh's second jacket is white and high-collared much like the outer coat. It is mostly unbuttoned and exposes Gilgamesh's chest before being closed up by three buttons and two belts near the Heartless's waist, only to flare outward again, leaving three buttons undone, thus creating a slightly handsome, intimidating effect on someone.
Guild
Guild:
Raven Tail
Tattoo:
Red, in the eye of the raven tattoo on his back
Rank:
D
Extra
Friends:
(Any friends you have made go here, IC only)
Enemies
(Any enemies you have me go here, IC only)
History:
Created from a lone necromancer's attempt to bring back his dead daughter, Gilgamesh was born to a couple (who was actaully a dragon using inexplicable magic) who used lightning(dragon slayer) element magic. After he was born the couple was killed by the necromancer in order to hide his nefarious deeds. Rather than leave him to be raised in the dark arts, a wandering magician who learned of the incident took it upon herself to take the child and raise him herself. After gaining the necromancer's trust she fled with the child to Mount Hakobe and teach him Lightning magic. Gilgamesh proved to be a bright and gifted student, willing to delve deep into the mysteries of magic and progressed quickly through meditation and practice. His prowess extended outside magic to include simple, menial things, which he knew would be of some use to him later. But, at least for now, he led a happy, provided for life
At the age of 15, his master was killed by the very necromancer who created him. Entrusting him with a scroll containing a forbidden spell, he ran and wandered the world, growing in proficiency but lacking the resolve to fight. During his travels he met a woman who would become a lover to him. He settled with her in her village north of Web Valley. One night, she was killed in a raid by the necromancer who was searching from him. As he watched her helplessly die, The necromancer walked towards him and tried to awaken his powers.From inside, a blinding magic exploded wiping out everything in existence and draining Gilgamesh of his stamina. Gilgamesh awoke to find the village in ruins and that the necromancer escaped his unintentional attack. Gilgamesh resolved to learn the forbidden spell to avenge his teacher and his lover and continues to search for the necromancer who stole everything from him. However, his regular magic usage had been damaged. Gilgamesh had to spend time re-learning how to use his magic, so that he at least wouldn't be a helpless despot.
Learning that the Necromance was from the guild Fairy Tail, Gilgamesh began a long search for the one antithesis to them, Raven Tail. Realizing that all the lightning magic was actually dragon slaying magic (due to remnants of Dragon Force), he vowed to make the Necromancer, and the rest of fairy tail PAY! This began a long quest in the search for power and better control of his magic. He traveled constantly and sought every method possible to become a near-god (or at least near-dragon) as possible.
Face Claim:
Ansem, Seeker of Darkness
Last edited by Gilgamesh on Wed Apr 17, 2013 6:31 pm; edited 3 times in total
There are a number of things missing from this application.

I must ask that you review the character application topic and ensure all requirements are met. Thank you.

If you have difficulty locating the application please feel free to ask about it's location.
I added to a few things (histroy and reasons for Fears/Dislikes/Likes/Motives but I didn't find anything else wrong. If there is something, may you please PM on specify here. Thnks
I will, but first let us address the main issue. You need 3 likes, 3 dislikes, at least 2 fears and 2 motivations. The likes and dislikes should be explained. And as a dragon slayer app they should be a chunky set of sentences. Fears and motivations must be thorough as well.
Could you list those likes and dislikes ? Line break a bit, it's all jumbled. Not to be fussy.


Similar topics
---
Permissions in this forum:
You
cannot
reply to topics in this forum